New trend: YouTubers are moving to the North of Sweden (?!)
The mysterious YouTube algorithm had me stumble upon an unlikely phenomenon. It seems like people from all over the world are migrating to the North of Sweden. Why? Is this the start of a trend?
When I was about 15 years old I did a 3-day internship at a renowned web agency in Stockholm. Quite a long trip. Because that's about 900 km away from my hometown Piteå located in the great North where I'm born and raised.
My first day was spent in a joint-project meeting with a TV advertising agency. That was a wild experience. The dress code seemed to be scarf + blazer, indoors (wtf?). Apparently very typical for the ad industry in Sweden. Another guy was extremely laid back with his shoes on the conference table, constantly doing pen-tricks. I later realized that this was my first "creative brainstorming meeting".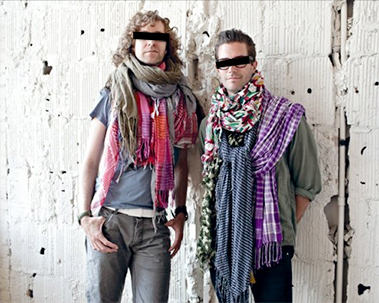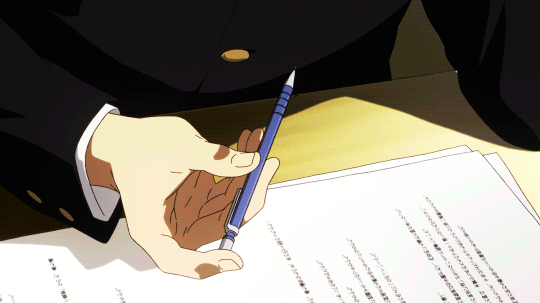 The project was divided into two parts, they did the TV ads and we would build some cool online social platform that went along with it. Probably in Flash, as usual back then. The client was a big Swedish food brand who wanted to find good use for the many sports stars they had signed.
One guy said (Yes. They were all men): "What if we create like a big fictive house where all the sports stars live together? Then you create a platform where the kids can log on and like, play games, read up about the sports stars, chat and do some trivia."
Yes. This was around the year 2000, long before Facebook. Social platforms were very popular among kids already.
Another guy responded enthusiastically: "That's a great idea. We can buy a disposable house up in the North. Then we shoot the TV ads there and you guys can use the exterior photos to make some cool-fantasy-interactive-house website. We can probably find a house for less than 150k that we abandon once it's done. It's dirt cheap up there." (150k SEK is about $18k)
Me in my young mind: "Wait… what? 150k is a lot of money! Disposable house?"
After the meeting, my mentor said: "Yes, it's a lot of money. For you. Considering they pay the same amount for every 15-second slot on prime time TV, it's not that much money to them."
That certainly brought new perspectives to the value of wearing scarves indoors. And to the value of money.
I never thought I would hear someone refer to a house in my home region as "disposable" again. But I was wrong…
Quick history lesson (very simplified)
Back in the 16th century, when other countries successfully conquered land all over the world through colonization, Sweden realized that we could find similar resources in our own backyard.
Up until that point, nobody really paid much attention to the area called the Northlands (sv. Norrland) which makes up about 59% of the country (FIFTY-NINE PERCENT). It was even more sparsely populated back then. You would only find a lot of forest, some poor farmers, and Sámi people with their reindeers (natives).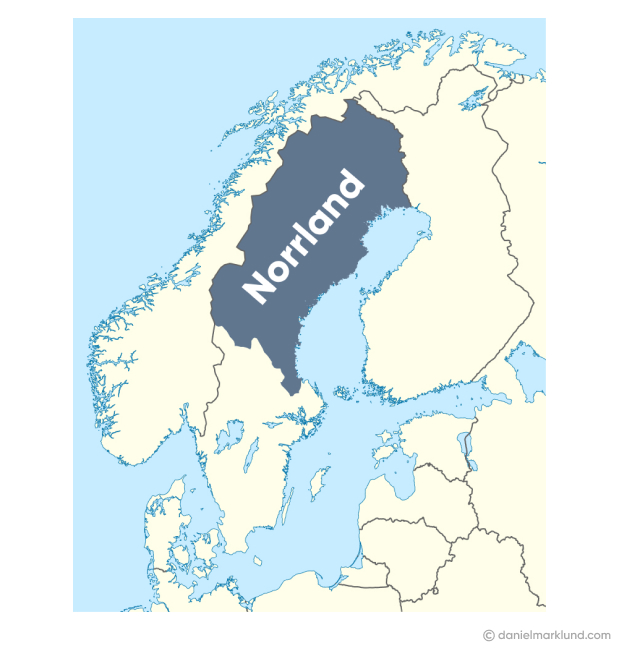 Slowly Sweden started to colonize the North, following the coastline. But it wasn't until late 1800 things really started to take off. First, an extensive sawmill industry was established. Utilizing the rivers as efficient transportation for driving logs down to mills at the coasts. Then some serious mining up in the mountains which established the need for better communications. Railroads ftw! Followed by the exploitation of hydropower in our numerous and powerful rivers (no pun intended).
To give you an idea of the success, here is the population growth in a neighboring city of mine: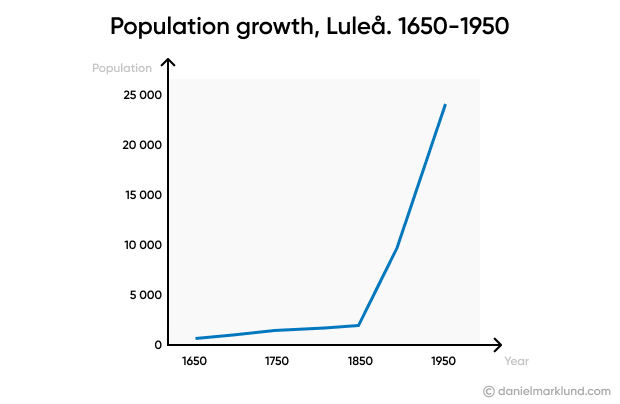 All cities along the coast followed the same exponential trend. Sweden experienced unprecedented growth because of this rapid industrialization.
Everybody was working hard for the benefit of a selected few. Unfortunately the Average Svenne was held back by old structures. As a result the wealth gap only increased as time passed. The situation was calling for a change.
Therefore in 1920, a successful political campaign was launched with the vision to create a more equal Sweden. Replacing a class society with a welfare state (sv. Folkhemmet). The recipe included workdays limited to 8 hours, paid vacation, pension, free healthcare, free dental care, free school, housing, and grants for having children.
The extension of this campaign is what made Sweden to one of the best and most equal countries in the world. Their words, not mine.
No matter where you lived in the country, you had the same rights. Construction of schools, libraries, health care, and supermarkets took place in the most remote places. Communities were established in unlikely places. The land was abundant. The resources as well. Do you want a house? Everybody gets a house!
Sweden was thriving, including the "small" colony in the North.
The situation today
The same rights exists today and in financial terms Sweden is doing better than ever. But how is the countryside doing? Not so well.
Remote villages are on the decline as a result of urbanization. The jobs are moving closer to the cities along with the people. Schools, libraries, day cares, and supermarkets are closing down. It's not as convenient to live in sparsely populated areas anymore. The North is no exception.
Result: The people are leaving, but the houses remain. That's why you can find dirt cheap houses in the North of Sweden. Well. In some places at least.
Northern Sweden is extremely beautiful. It can be cold and harsh during the winter months, but the people here are skilled, tough, helpful, and welcoming.
The region is a hidden gem, often referred to the last remaining wilderness in Europe. Lush green and hot in the summers, where the sun never goes down. Snow and northern lights in the winter. Let's not forget the beautiful seasons in between.
Even people from abroad have started to take notice…
Cue: the YouTube generation
What do you get if you take the freedom of working from anywhere, throw in some existential crisis induced by "self-help gurus" / "life coaches", combine this with tranquilizing nature and cheap ass housing?
You get: (Wait for it…)
YouTubers buying houses and moving to the North of Sweden!
"Renting in London for a year would be the same price (or more) as buying a property in Sweden. We basically bought a disposable house."
Naomi & Jack. Bought a house, forest and land for ~100k SEK ($12k USD)
"Disposable house", eh? There it was again.
The list
Believe me when I say: I'm extremely grateful for these people. They are giving more exposure to this region than any tourist agency could ever hope for. So from the bottom of our hearts: Thank you!
I'll try to keep this list updated, so make sure to send me any tips. Get inspired. Move to Sweden! Make more people move north. Catch you on the flip side.
My name is Jonna Jinton, I'm 26 years old live in the woods in the north of Sweden. I practice the art of kulning, which is the name of the ancient Swedish herdingcall. It was used a long time ago to call the herdstock (the cows and goats)...

2.3M subscribers

YouTube channel

My name is Kalle and in the year 2018 I left my full time job and apartment in Stockholm to live a simple and more meaningful life in the northern parts of Sweden. Here on Youtube I share videos and tell stories about simple living, minimalism, personal development and much more...

70k subscribers

YouTube channel

Not far from the edge of the mountain, lies Talasbuan fäbod. For about 80 years it stood empty before we decided to give new life to the old place. The area has been a place filled with fäbodar and throughout the years the cowbells have chimed through these forests.

79k subscribers

YouTube channel

So yep, we left the UK amidst a pandemic to buy our first house in Sweden. It's been a wild ride and we are so pleased to share it with you. This is just the start of our Swedish journey so make sure you subscribe to follow our journey of renovations and adjusting to life in Swedish Lapland.

42k subscribers

YouTube channel

Buying My First Home in Sweden. Where has Maya been you may ask!? Sweden! She put her health, love and freedom first 💕 So much has happened in the last few months and I am finally sitting down to answer some of your questions about why I decided to do this move and what I've learned...

1.2M subscribers

YouTube channel

My name is Whitney Alison and at the age of 27 i decided to change my life and live to the fullest. Leaving my birth country of Holland and move on a feeling to the North of Sweden to reconnect with Nature, Ancient knowledge and reintergrate them into my life...

6k subscribers

YouTube channel
---